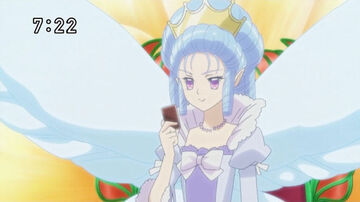 The Queen is the Sweet Spirits ruler of all the
Sweet Spirits
and
Sweets Kingdom
.
She collects Sweets Cards from the sweets the spirits bake  with their human friends. In the manga, Marie and the queen are both named Marie, in fact, sharing the same name is what started their friendship and eventually gave birth to the whole partnership system between humans and Sweets Spirits.
Gallery
Ad blocker interference detected!
Wikia is a free-to-use site that makes money from advertising. We have a modified experience for viewers using ad blockers

Wikia is not accessible if you've made further modifications. Remove the custom ad blocker rule(s) and the page will load as expected.