Amano Kyouko is a supporting character of Yumeiro Patissiere, she played a major role in the first episode when Ichigo decides to pursue her dream of becoming a patissiere.
She is the mother of Ichigo Amano and Natsume Amano. For many years she favoured Natsume over Ichigo because Natsume was very good at playing the piano, while Ichigo despite being older didn't have a special talent other than being a champion cake eater until she joined St. Marie Academy.
She appears to regret ignoring Ichigo and strongly supports her dream of becoming a patisserie; even forcing her husband Shigeru to let Ichigo travel the long distance away from home and also pay the school's fees. Because she is married to Shigeru Amano, she is the daughter-in-law of Michiko Amano and her brother-in-law is Hikaru Amano, who is also a patisserie. She also thinks Ichigo's interest for becoming a patisserie runs through her blood from her grandmother's side.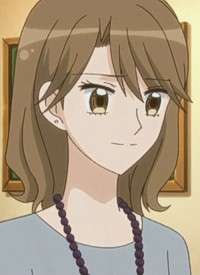 Gallery